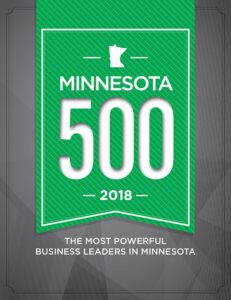 Every year, Greenspring Media publishes a list of the 500 most powerful and influential leaders in Minnesota. The list includes leaders from over 60 industries including  business, government, non-profits and additional sectors. Minnesota has a wealth of talent and leadership and we are proud to claim our very own CEO as one of them.
Jo Reinhardt has served a president and CEO of Industrial Louvers Inc. for more than 20 years. Based in Delano, the nearly 50-year-old manufacturing company builds custom architectural metal products. Reinhardt began as the marketing manager before taking on the role of president and CEO in 1999. In 2018, Reinhardt received the Lifetime Achievement Award from the Minnesota chapter of the National Association of Women Business Owners and was also recognized for her role in pushing her industry forward and opening up opportunities for other women. She attributes her success to being actively engaged and keeping an open mind to new ideas and processes. Reinhardt also recognizes the importance of having a strong leadership team and loyal employees that share the values the company embraces.
Click here to order a copy of the 2020 list.