Sustainability
At ILI, sustainability is central to what we do. Our commitment to continuous improvement in sustainable operations reduces our company's environmental impact. We take great effort to increase awareness about environmental issues within our industry and to help create a more sustainable built environment.
.
Our products contribute to sustainable designs. Sun control products can help achieve the goals of Leadership in Energy and Environmental Design (LEED), Green Globes, Living Building Challenge and other rating systems or simply fulfill the spirit of these systems by reducing energy consumption and increasing occupant comfort. Exterior sunshades have a critical impact on cooling and lighting systems and, when used properly, significantly reduce buildings' energy loads. They also reflect sunlight from buildings to reduce heat island effect and diminish glare, minimizing energy consumption and fostering a more pleasant occupant experience. Interior light shelves maximize daylighting and reduce glare without affecting views to the outdoors.
.
We strive for continuous improvement throughout our operations. Our internal green team sets goals and priorities, educates staff and implements sustainability strategies throughout the organization. We are among the first manufacturers pursuing the International Living Futures Institute's (ILFI's) Living Product Challenge and are the first manufacturer in the United States to earn the JUST Label. Living Products not only have extremely limited social and environmental footprints from cradle to grave, but they actually enrich human life by supplying the world around them with power, water, and beauty and improving health throughout their life cycles. The JUST label is ILFI's social justice 'nutrition label.' It is a means of assessing ILI's impacts and contributions to our employees' wellbeing, environmental sustainability, our local community, and society as a whole. Outside of these programs, ILI focuses on sourcing and using the most environmentally sustainable and healthy raw materials for our products. This allows us to maximize the use of recycled content in our products.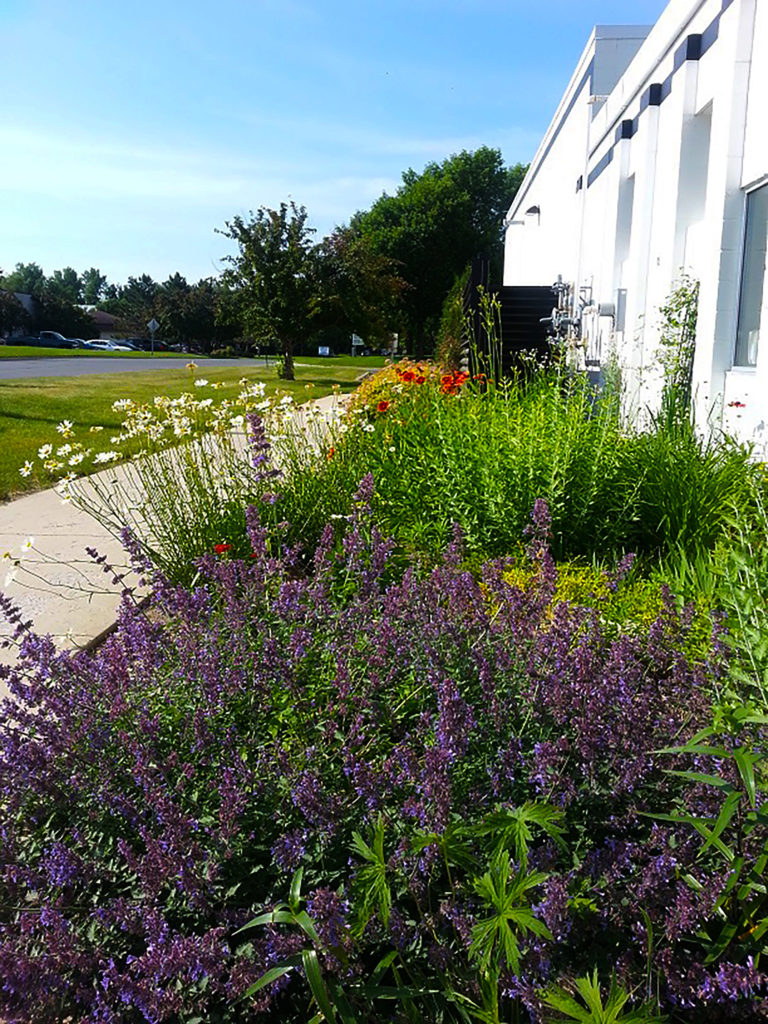 Reporting
ILl discloses material content through Health Product Declarations (HPDs) which are available for download below and to the public in the HPD Collaborative's public repository at http://www.hpd-collaborative.org/hpd-public-repository/.  We use Valspar's Flouropon Pure formulation for all of our standard and most custom colors.  We have published ILFI Declare labels that have been third party verified and are available below and at https://declare.living-future.org/.
.
Product-specific Type III Environmental Product Declarations (EPDs) are available for our louvers & equipment screens and sunshade product lines. Our EPDs have been verified through NSF and are publically available in the NSF Certified Products and Systems database. Louvers and equipment screens are published in the Roof and Wall Panels product category at https://info.nsf.org/Certified/Sustain/ProdCert/EPD10628.pdf, sunshades are published in the Sun Protection System category at https://info.nsf.org/Certified/Sustain/ProdCert/EPD10629.pdf.
.
LEED Summaries
Click here for a basic summary of the data available for LEED V4 projects.
For project specific LEED data, please contact Vanessa Ehret at vanessae@industriallouvers.com.
.
California Prop 65
California Prop 65 Warning Statement
For sustainability-related technical questions, please contact Lisa Britton, CSI, CCPR, LEED AP BD+C, GGP at 763-972-7011 or lisab@industriallouvers.com.
.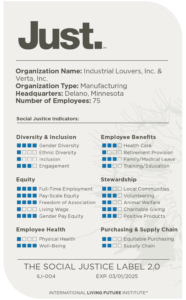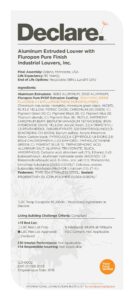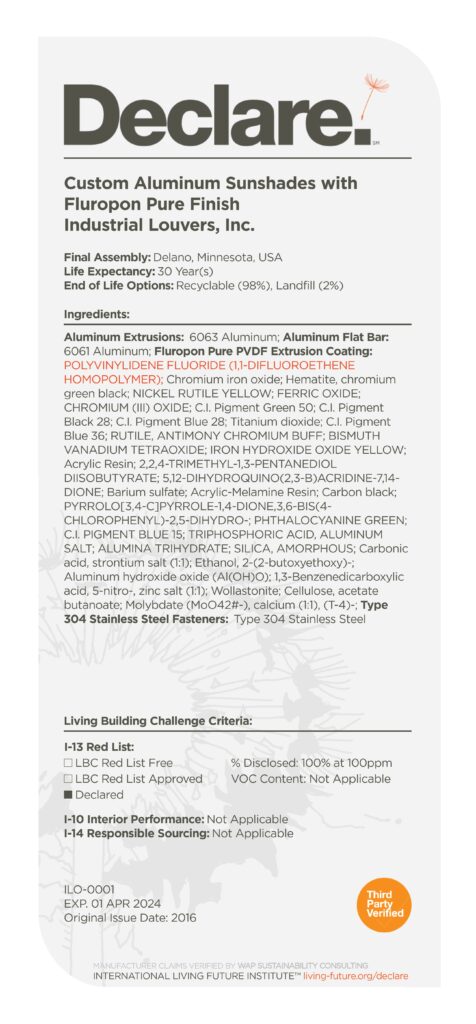 Product Disposal
ILI's products are intended to last the life of the building. At the end of a building's life, or if a major remodel requires removal of our products, all of our products can be recycled. For recycling resources in your area, visit the Institute of Scrap Recycling Industry at www.isri.org.