Finishes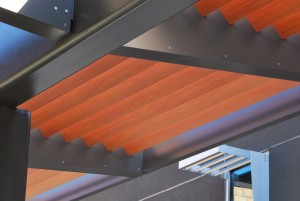 Industrial Louvers, Inc. (ILI) offers a comprehensive range of painted and anodized finishes. Beautiful, durable fluoropolymer coatings are resistant to chalking, abrasion and ultraviolet degradation, and keep products looking new for years. ILI offers the advantage of in-house painting for 70% PVDF finishes allowing for the highest possible quality standards, and reduces lead times.
ILI's standard finish is Sherwin-Williams' Fluropon® Pure line of coatings. With significantly reduced hazardous materials, these coatings are formulated with material transparency and environmental impacts in mind. ILI is committed to sustainable practices on all projects. 
Fluropon Pure Specifications:
Meets or exceeds AAMA 2605
Appropriate for building components designed for high-rise and monumental structures.
Appropriate for projects located in areas with intense sunlight, extreme temperatures or high levels of atmospheric pollutants.
Formulated without the use of PFOA, hexavalent chromium, cadmium, lead and phthalates.
Please note that some custom finishes may not be available in the Fluropon Pure formulation.
Download a PDF of the finish guide from Verta, our exclusive on-site finisher, by clicking here.
Illumipon FEVE Specifications:
Meets or exceeds FGIA / AAMA 2605
Resin based coating that is highly resistant to weathering, airborne chemicals, acid rain and other environmental damage.
Outstanding color consistency and superior hardness are ideal for corporate facilities, retail locations and architectural features.
Click here for more information on Sherwin-Williams Illumipon™ FEVE fluoropolymer finish and here for a comparison between PVDF and FEVE.
Please note that on-screen colors or colors printed from our downloadable finish guide will not match actual finishes. When making a final color selection, please request a hard copy of our finish guide or samples of color chips.
Solid Colors

Matte Black




398A1937FP

Extra Dark




Bronze




397B1820FP

Mansard Brown




397C0247FP

Hartford Green




395C196FP

Award Blue
396B766FP

Charcoal




392B651FP

Statuary




Bronze




397F262FP

Brandywine




394A735FP

Evergreen




395C903FP

Electric
Blue
396B1088FP 

Fashion Grey




392A849FP

Dark




Bronze




397B791FP

Colonial Red




394A946FP

Interstate




Green


395F081FP

Rex Blue
396B502FP 

Cityscape




392B869FP

Seal Brown




397B036FP

Brick Red




394F146FP

Dark Ivy




395C1508FP

Sky Blue
396B5712FP 
Stone White
391A454FP

Grayish




392B4031FP

Tile Red




394A572FP

Mint Green




395B880FP

Teal
395A832FP 
Bone White
391B803FP
Sierra Tan
393B4397FP
Beige
393F061FP
Patina Green
395C1321FP
Hemlock
Green
395C1966FP
Bright White
391B9513FP¹
Seawolf
Beige
397F199FP
Sandstone
393X321FP
Almond
397B1117FP
Oriental
Ivory
393A361FP

Mica/Metallic Colors *

Dark Bronze
Mica
399C8157FP
Harvest Gold
399C8787FP
Cosmic Gray
399C9126FP

West Pewter
Mica
399C9753FP

Bright
Silver
399X440FP

Medium
Bronze
399D0427FP
 Apple Fizzie
399B812FP

 Gray Velvet
399D0508FP

Silver
399B697FP

Platinum
399C7551FP

 Driftwood
399C9411FP

Champagne
Metallic
399C711FP
 Medium Gray
399D7582FP

Silversmith
399D0502FP

Sunlight
Silver
399D0280FP
 Vancouver
Copper
399C9350FP

Champagne
Pearl
399C245FP

 Pewter
399C1180FP

Silver
Metallic
399C8897FP

Anodic Clear
399C210FP

Copper

 

399C505FP

 

 

 
 

Vibrant Colors **

 Galactic
Darkness
SL4A625FP
 Eggplant
SL6A1169FP
 Yellow
393B4927FP
 Neon Orange
384A3437P
Bright Red
SL4A625FP