Finishes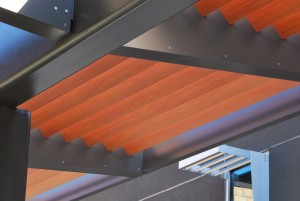 Coatings and anodized finishes make each product unique and are key to durability and long-term value of projects. Industrial Louvers, Inc. (ILI) offers a comprehensive range of painted and anodized finishes. Our wide selection of standard finishes will complement nearly any exterior. We also custom-match colors and offer exotic patterns.
Beautiful, durable fluoropolymer coatings are resistant to chalking, abrasion and ultraviolet degradation, and keep products looking new for years. ILI offers the advantage of in-house painting for 70% PVDF finishes. Finishing product in-house ensures we can enforce the highest possible quality standards, and significantly reduces the potential for damage from shipping to an outside finisher. It also reduces lead times and provides us with the flexibility to manage our own finishing schedule.
Bone White




391A580FP

Stone White




391A454FP

Seawolf Beige




397F199FP

Classic II
Champagne


Pearl




399C245FP

Oriental




Ivory




393A361FP

Beige




393F061FP

Classic II




Silver




399B697FP

Rawhide




397A538FP

Sandstone




393X321FP

Statuary




Bronze




397F262FP

Fashion Grey




392A849FP

Brick Red


394F146FP


Sierra Tan




397A537FP

Dark Brown




397A536FP

Charcoal




392A848FP

Black




398F019FP

Military Blue




396A933FP

Interstate




Green




395F081FP

Anodic Clear




399C210FP

Dark Bronze




397A606FP
ILI's standard finish is Sherwin-Williams' Fluropon® Pure line of coatings. With significantly reduced hazardous materials, these coatings are formulated with material transparency and environmental impacts in mind.  Fluropon Pure coatings offer opportunities to comply with material disclosure and optimization credits in LEED® V4 and comply with Red List Free requirements for Living Building Challenge projects. ILI is committed to sustainable practices on all of the projects in which we participate, not just on those that require it. All of ILI's standard colors and thousands of custom-matched colors are available in this formulation.
Fluropon Pure Specifications:
Meets or exceeds AAMA 2605
Appropriate for building components designed for high-rise and monumental structures.
Appropriate for projects located in areas with intense sunlight, extreme temperatures or high levels of atmospheric pollutants.
Formulated without the use of PFOA, hexavalent chromium, cadmium, lead and phthalates.
Our wide selection of standard finishes will complement nearly any exterior. We also custom-match colors and offer exotic patterns. Please note that some custom finishes may not be available in the Fluropon Pure formulation.
Download a PDF of our finish guide by clicking here.  Note that on-screen colors or colors printed from our downloadable finish guide will not match actual finishes. When making a final color selection, please request a hard copy of our finish guide or samples of color chips.
Anodized Finishes:
Although not as durable, anodized finishes offer an attractive finish for some applications. We offer Class 1 (minimum of .7 mil thickness) clear and color anodized finishes. Like staining wood instead of painting it, anodizing allows the character of the raw material to show through. It will not cover up variances in the material.