The University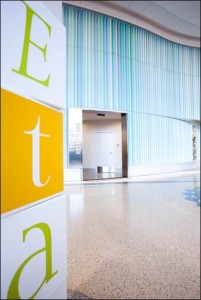 of Iowa Facilities and Capital Management, in partnership with Heery International Inc.,  had an ambitious vision for the main interior corridor of the new $600 million University of Iowa Children's Hospital (UICH). The hospital's overall shape is an ellipse with the main corridor following a figure eight pattern within. It includes seven different radii and was designed to create comfort and whimsy for the patients and their families. The end design included nearly 12,000 parts, in 37 colors, to make 2,780 triangle tubular assemblies. The journey to get there required creativity, cooperation and collaboration between Forman Ford, ZGF Architects and ILI.  Read the full story >
The journey began when the University of Iowa brought their vision of painted independent dynamic aluminum triangle tube assemblies to Forman Ford, a Midwest regional glass and glazing company, to see what they could do. As long time partners with ILI, Forman Ford brought the idea to Industrial Louvers.  Together, we got to work designing a system to fulfill the University's vision.
ILI's engineering staff designed a system that would allow a three piece extruded aluminum tube, integrated with a top and bottom end cap rotating mechanism, to be secured to the corridor wall by a horizontal wall mounting extrusion track and support brackets. The University of Iowa also wanted to fill the corridor with color and planned to paint each side of the extrusion a different color: blue, purple or yellow.
During the progression of the project, ZGF Architects came up with some new ideas for marrying the design of the wall system with the rest of the interior. The rotating function was removed and the color scheme was updated to include 37 different colors, laid out in a specific pattern. Nine hues, with four tints each, and a stark white, culminate in a mesmerizing gradient pattern. In the new installation strategy, the assemblies would now be mounted from floor to ceiling in a variety of lengths to accommodate windows, doors, counters and vitrines for dis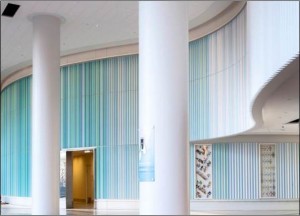 plays and needed to be child safe and incredibly durable. Access to and easy removal of individual tubes was also required in the event of damage.
The final challenge landed squarely on the Industrial Louvers team. In order to ensure the proper installation of all of the parts, tremendous effort was made in sequencing the shipments so the right parts were received at the right time and that the first piece pulled from the crate was the firs piece needed. Kymson Brazee, the project manager for Forman Ford described the effort by stating, "ILI was not only a key partner in the design and fabrication of the triangle tubes, they promised and delivered on the critical project intangibles like communications, scheduling, shipping and crating that led to the project being a success for Forman Ford, the University of Iowa Children's Hospital, and ultimately, the patients."
ILI's core values, including providing WOW, being team players and solution providers, ensured this collaboration was successful.  Next time you have a vision, allow Industrial Louvers to contribute to your success.
The University of Iowa Stead Family Children's Hospital will open the end of March 2017. If you'd like to learn more about the entire building project, please visit the building update section on their website.