Industrial Louvers, Inc. (ILI) is proud announce the release of two Declare labels.
DELANO, Minn –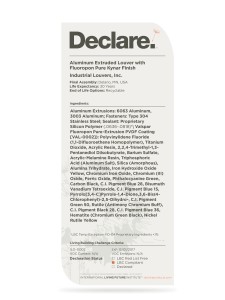 The International Living Future Institute's (ILFI's) Declare program is a transparency initiative through which manufacturers and designers present to consumers the answers to three simple, but significant, questions. A Declare label states where a product comes from, what materials go into its production, and what happens at the end of its lifecycle. Declare's nutrition-label format makes complex lifecycle and chemical information accessible by allowing consumers to easily distinguish products that align with their values. Declare is a component of ILFI's Just, Living Product, and Living Building Challenges, and is consistent with LEED v4 requirements.
Declare labels are divided into three sections. The first offers summary information, indicating the company's name, the product under evaluation, where its final assembly occurs, its estimated life cycle, and what percentage of the product is recyclable. The second section lists, in order of highest to lowest concentration, the name and origin of the ingredients that make up the product. On the ingredients list, Living Building Challenge (LBC) Red List chemicals and EPA Chemicals of Concern are written in dark and light orange type, respectively. The Red List includes any chemicals that are harmful to the environment, animals, or people who come in contact with the product during its production cycle. The EPA Chemicals of Concern list is similar, noting four types of chemicals that pose health a
nd safety threats to people and the environment. The final section indicates the concentration of Volatile Organic Compounds (VOCs), which can be dangerous to human health and the environment. It also shows the "Declaration Status" of the product, for which there are three options: LBC Red List Free, LBC Compliant (the product has a temporary exception because they are phasing out any Red List chemicals), or Declared.
Industrial Louvers currently has two Declare labels, one for Storm Performance Louvers that is Red List Compliant and one for Custom Sunshades that is Red List Free, both with a Fluropon Pure Kynar Finish.  Declare is a vital tool for our ongoing transparency efforts and is helping us lead our industry toward sustainability and transparency.